Part of being a recruiting analyst is leaving no stone unturned and really jumping in with both feet. I wanted to make sure I was ahead of the curve on this one, so I went out and personally scouted each of these five players. I had a preconceived notion of who would be the best of the bunch, and for the most part, I was correct. There were definitely a few surprises in store, though. (IN STORE, GET IT?)
As of June 1st, 2012, grocery stores throughout the great state of Washington could begin selling more than just beer and wine. Gone are the state run liquor stores (well, kind of) and the ridiculous hours they kept. However, not everything is sunshine, lollipops, and rainbows Captain Morgan. The trade off of the amazing convenience is the higher price. I'll breakdown just how you can calculate the price for yourselves with a handy dandy chart after the jump.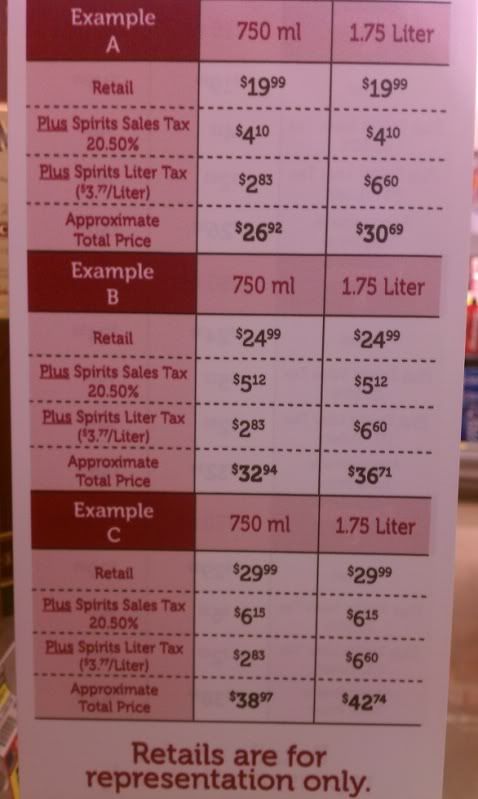 The new liquor comes with a seemingly steep price, but this will come down with time. The taxes are as follows: 20.5% sales tax on liquor, as well as a $3.77 per liter charge (2.83 for a 5th, 6.60 for a half gal).
Now that you're all experts on the way the world works, lets break down each recruit on an individual basis. Before we begin, here are my pre-rankings for each player:
Costco (✯✯✯✯✯ QB, Kirkland, WA)
Safeway (✯✯✯✯ RB, Bothell, WA)
QFC (✯✯✯✯ JC WR, Bothell, WA)
Fred Meyer (✯✯✯ FB, Bothell, WA)
Albertsons (✯✯ LB, Bothell, WA)
Costco:
When I began compiling a list of recruits to scout, Costco was at the top of my list. Costco has offers from almost every single school in the country, and is exactly what you look for when dreaming up the perfect recruit. Costco has a huge selection, as well as their own brands (Kirkland Signature). The only negative thus far with Costco are all the attention they've been getting recently, as it took me almost 20 minutes to simply find a parking space at 11:30am on a weekday. I realize that today being June 1st, coupled with construction and narrow streets, was probably a recipe for disaster from the start. However, once inside, Costco wasn't as busy as it seemed. People flocked to the new liquor aisle located in the back by the muffins, and most were shocked at the taxes (even though they shouldn't have been). Costco's selection is second to none, and they specialize in bulk (obviously). It was difficult to find a 5th (750ml) in the sea of handles (1.75L). But if your problem is "this is too much alcohol", then you are doing it wrong.
Overall, I was extremely impressed with Costco, and they definitely deserve their 5 star rating.
Safeway:
I live in Bothell where a brand new Safeway was just built. The old store is right across the street from me, but I still drive the extra 3 or so miles to the new store because it's much nicer, bigger, and has self checkout. I was counting on Safeway to be the workhorse RB, since Mrs. Kyle and I shop there weekly. Their selection was about what I expected, as they were still filling the shelves when I arrived. The bonus was the dedicated Liquor & Wine consultant working there who had memorized the taxes and surcharges. While no signage was up, she was extremely helpful to everyone. If Safeway had easy to read signs like the one posted above, they would be bumped up to a 5 star.
Overall, their prices were about what I expected, with some being cheaper than the previous state run liquor stores, and some being more expensive. Solidly 4 stars.
QFC:
The Quality Food Center in Bothell boasts an extremely large wine and beer selection, so I had high hopes going into the evaluation. Even though their wine selection is enormous, their liquor selection was minimal. The other discouraging thing was how expensive they were. In each store, I went straight for the rum section so as to mentally note which store I would be frequenting. Captain Morgan was always around $14.99, give or take a dollar. QFC had Captain Morgan listed at $18.99. No thanks.
The one big thing I worry about with QFC is their qualifying scores. You definitely have to worry about the NCCAAA Clearinghouse coming down on them for being too pretentious. Also, level of competition is a question mark. Sure, they've done some great things in the past in JC when playing against the Whole Foods of the world, but I worry that against better competition, they'll flounder.
Overall, I think QFC is overrated, and shouldn't be your first choice. It's not bad in a pinch, or if you go to UW. Should probably be downgraded to 3 stars.
Fred Meyer:
I'm not sure what I was expecting out of Fred Meyer, to be honest. I like Fred Meyer for random things like Christmas shopping (their toy section is better than you'd think) and household stuff (Mrs. Kyle likes to buy candles and hand towels from them), plus they're right down the street from us. They recently began renovating the store, so the massive amount of construction work is probably a negative, but it's not so bad that you can't deal with it.
Their selection is modest, but it gets the job done. Price wise, they're a little cheaper than QFC, but a little more than Safeway. I don't know if I'll buy liquor from them very often, but I'd buy it there before I went to QFC. Their 3 star ranking is probably right. They're a solid player, and after their renovation, they could blossom into a real threat.
Albertsons:
Oh man, I was not expecting much when I walked into Albertsons. First, I used to work at Albertsons during high school. I have somewhat fond memories, but I know enough to not really enjoy shopping there on a consistent basis if other stores are available. Albertson's selection wasn't huge, but it was enough. Aside from some signage issues (um, guys, Jameson is not a vodka), I was really surprised at how much I liked their set up. The picture above was from Albertsons. The handy chart was attached to every aisle, and it was very easy to understand. Once Albertsons gets a little more selection, they could be a player to be reckoned with. These are the types of recruits to get excited about because Washington State has built a living off of 2 and 3 star players who no one else really wanted.
Overall, I was really surprised how much I liked Albertsons. I think they're a solid 3 star with 4 star potential. Price was about on par with Safeway on some, a little too high on others. Keep an eye on Albertsons.
If you were wondering which stores were the best to buy liquor from, I'd start with Costco. Costco's downside are it's hours (which aren't that different from the former liquor stores) and amount of traffic. If you're looking for a local grocery store, though, Safeway is the way to go.
Also, I took a poop in the Safeway bathroom so I think we're good to go, guys.
-----
Want more? Follow me on Twitter.